We Link
10th October 2017 issue 17
What is in this issue
Message from the headteacher
Back in May, just before the general election, I wrote a piece in We Link about how critical school funding was. You may have heard that Secretary of State Justine Greening has provided an additional £1.3 billion over two years for school funding. Whilst this is a good start, we cannot rest yet as the £1.3bn (which is being taken from other areas of education spending) falls well short of redressing the £2.8 billion real terms cut in funding that schools have suffered since 2015, let alone covering the impact of cost increases in coming years. Indeed at a meeting on Friday with West Berkshire finance officers, we were told despite news of improved funding we should expect no increase per pupil funding for the next four years, and no additional funding to pay for any increase in public sector pay. We have to demonstrate to MPs that this issue is not going away, that parents, teachers, support staff and governors know the facts about school funding and that they expect the cuts to be reversed. So here are two things to do: firstly, take a look at www.schoolcuts.org.uk website. This has been updated to reflect the latest school funding figures published by the DfE. Simply type in our postcode (RG73XJ) or that of any school to see how the school is affected. You will not like what you see. Secondly there is a lobby of Parliament on the 24 October. This will be an opportunity for parents, carers, governors and teachers to arrange to meet their local MP in person inside Parliament in order to request their commitment to reverse school cuts. You can sign up for the lobby at www.schoolcuts.org.uk.
On a different theme, may I remind you of two parent events this week – the Parent Forum on Thursday (6.30pm in the Drama Studio) and our DIY Painting and Decorating on Saturday (9.15am in the Hall) - this latter event relates to funding, as we have less the £20K for maintenance this year, so every little helps!
Finally, there are three important documents posted on the website this week for you to view:
Milestone Assessments (details assessments your son or daughter will be undertaking in years 7-9 and the grading system used)

Progress & Attitude to Learning Reports – the first report of the year are published at the end of the month

Homework Policy and Homework Schedule – please remember we have this guide to homework rather than a specific calendar.
Battlefields trip 2017
Forty-eight Year 9 students travelled to Ypres and the Somme last weekend(alongside Mr Sizer, Mrs Symonds-Keates, Mr Burgess, Miss Johnson and Mrs Moxon) and visited several different cemeteries to commemorate the missing and dead from WW1. They explored the differences between Tyne Cot cemetery and Langemark German Cemetery and the trenches and tunnels at Sanctuary Wood and compared them to the ones at the Passchendaele Memorial. Four of our students were able to lay the wreath at the ceremony at the Menin Gate on Friday evening—Beth Greaves, Eleanor Walker, Zac Warner, Ollie Woodcock - and Hannah Russell was chosen to write the message onto the wreath. The wreath was laid alongside members of the Australian parliament who were also in Ypres that evening. On Saturday the group visited the Devonshire regiment memorial - all of whom died on the 1st day of the Battle of the Somme. Then they headed down to the Somme where they explored the Canadian and Newfoundland memorials as well as visiting La Boiselle before heading home. The weather was beautiful on Friday but wet and cold on Saturday which really helped to emphasise the conditions that soldiers would have fought in during the war. The students were a real credit to the school and Mr Sizer made a wonderful tour guide!
Year 9 AWE Engineering Challenge Day
By Oli Woodcock, Thomas Rogers, Isla Thompson and Emily Owens

On Monday the 2nd October, four of us went to AWE for an engineering challenge day. When we got there they explained that the challenge was that we would build a boat out of materials they supplied (for example foam and wood) to be put through three challenges: a drag race, a liquid transportation test and a cargo endurance test. We had just 30 minutes to plan it and three hours to construct and test it. We made ours out of wood, foam and a lot of duct tape and added a pirate flag. The resulting boat looked good, was moderately fast and incredibly stable but when it came to the cargo challenge it took on water shortly before capsizing.

Getting Dirty at Hums Club!
Humanities Club, for Years 7—9, combines History, Geography and RE and we look at a different topic each week. Last week everybody got their hands dirty figuring out what people ate from different eras—Roman, Anglo Saxon and Viking. This week we're looking at the effects of erupting volcanoes and getting students to create their own volcanic eruption!
Year 6 & 7 STEM Challenge Day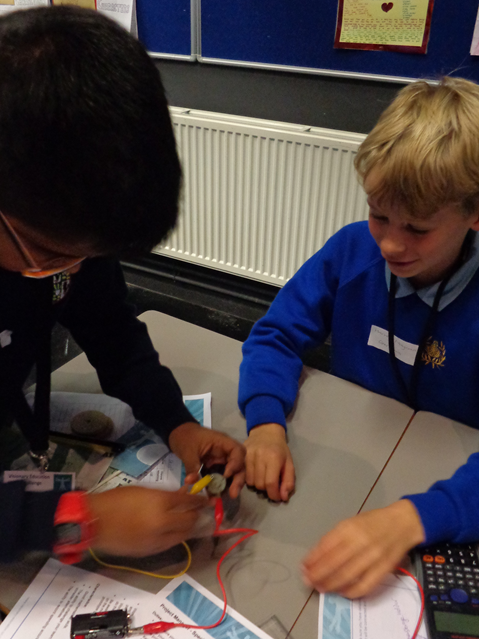 Last Wednesday (4th October) saw the Drama Studio being taken over for STEM Challenge Day by an enthusiastic group of Year 7s and Year 6s. This challenge was based around a village where the bridge connecting two parts of the community had been compromised by severe weather conditions including flooding. Students were required to build a transporter to carry a given load across the bridge safely and worked as teams of engineers in a real life context to achieve the challenge. As a group they assigned roles including planning, making and testing of prototypes. Well done to Noah Samuel and William Stantiford who were on the winning team with some visiting Year 6s.
This week Rachel Overett tells us how her experiences at school directly influenced her decision to go into education as a career. Rachel has many fond memories of her time at The Willink School ...
What are you doing now?
I am a part time English teacher at Maiden Erlegh school and part time private tutor and respite carer for children and adults with disabilites/special needs.
How did you get there?
I gained a First Class BA Hons in History and achieved an "Outstanding" PGCE. This was followed by teaching in five different school including two special needs schools. I have particularly enjoyed working in special needs in PMLD, learning Makaton signing, supervising trips to Auschwitz and Berlin, building relationships with families, learning how to be self-employed. My long term respite care roles were inspired by doing the Brookfields playscheme whilst at the Willink.
What do you enjoy about the job?
Having a varied carer which works for me and encompasses all my skills, variety, challenge, relationships with staff and students, challenging myself academically and allows for a good work-life balance.
What makes you proud?
My advanced skills and knowledge within the realm of special needs, finding a way to achieve a work-life balance, persisting with my career and life in general despite some major personal challenges and health difficulties. Having maintained my circle of friends from school and made many new ones.
Special Memories
Teachers - I had Spanish with Mrs Rumbol and History with Mrs Mercade on my visit day to Willink and then loved them ever since! My specialism at University combined the two and I focused my studies on Spanish History, in particular the civil war. Mrs Downey inspired and encouraged me to pursue work in special needs and encouraged me not to give up when things were tough. Mrs Stone helped me go from being almost frightened of maths to enjoying it and choosing to study it further! It is only now I am a teacher I fully appreciate the amount of lunchtimes/ after school sessions she put into helping us understand everything!
Friends - I still have a core group of friends from The Willink who I see now and then and communicate with regularly. Most are now married and our respective partners and in some cases children are now also friends! We were very saddened to hear of the death of another dear friend Keith Dore a few years ago.
Events - Many happy memories of many trips and events. I loved being involved with school productions especially doing the music for Joseph, Bugsy Malone and Oliver. I remember working with Cat Angwin and Keith Dore to produce a Greek tragedy for the house drama competition which my house (Wokefield) won for about the first time in 20 years! I remember proudly playing the sax for presentation evening and even Mr Parker's retirement do.
How has The Willink influenced your life?
Beliefs and values - My personality, resilience and academic passions were formed in Willink.
Career - I loved History so much I wanted to teach it, then found other passions in teaching.
Friends and family - Still very much in touch with many people from Willink and count both students and staff amongst my closest friends. My younger sister Lucy Overett married another Willink student Steven Burgess in Nov 2016.
This Much I Know …
There is the support and passion from teachers at Willink to enable students to achieve whatever they set their mind to- but you have to be proactive and take up all opportunities.
Previous issues