We Link
6th April 2017 issue 8
Message from the headteacher
Welcome to the final We Link edition of the spring term. As I write spring is well underway - a reminder that the examination season is round the corner! As the weather improves so Willink students are on the move too – Rosas, (just returned), and China and the Italian Alps over Easter! I hope you will enjoy this bumper edition and wish you all a very Happy Easter.
May I thank the 571 parents who responded to our annual parent survey? Once again a very high level of parental satisfaction is recorded. It is reassuring to know that 99% of parents believe that the school keeps their children safe and 98% of parents are happy with their child's experience at Willink. Use of the Planner and promoting healthy lifestyles were the two areas of most concern to parents. Click here for full details of this survey. Your feedback is important to us – please respond to the online parent survey "Parent View" that also can be accessed via our website.
With the national and local education focus remaining on school funding (or the lack of it!), parents will be interested to read the letter by John Redwood MP (HERE) in response to our letter sent on 14th March as part of the national consultation on school funding.
We have only two staff changes this Easter. Catherine (Rena) Richards is retiring as lunchtime supervisor; Rena has been on lunchtime duty in the hall for ten years and is a familiar face with our students. We are also saying farewell to Mrs Dance who is retiring having been with us at Willink as teacher of food and textiles since 1998. Mrs Dance will be continuing to teach her GCSE class in the run up to their exams.
Our thoughts are very much with our Year 11 and Sixth Form students at this time as they begin their final preparations for their summer exams. We wish them every success in their forthcoming GCSEs and A Levels.
Year 10 students officiate at The Berkshire School Games Festival
This year's Berkshire School Games was held on 22nd March at Bisham Abbey, where over 1000 students who had qualified in preliminary competitions represented their area in the County School Games.
The Willink School was selected to assist in the organising and officiating of the Indoor Athletics Competition. Fifteen of our Year 10 Young Sports Leaders were trained prior to the event, and helped lead the Indoor Athletics where 220 students were participating. The competition involved the students tracking, scoring and measuring shot, speed bounce, long, standing triple and vertical jump, and track two, four and six lap races.
The Willink also had their Year 8 boys' team representing West Berkshire. Congratulations to Zak Knowles, Jacob Foote, Tom Willis, Calum Fraser, Tom McClellan (below L—R) who finished in a very respectable 8th place overall.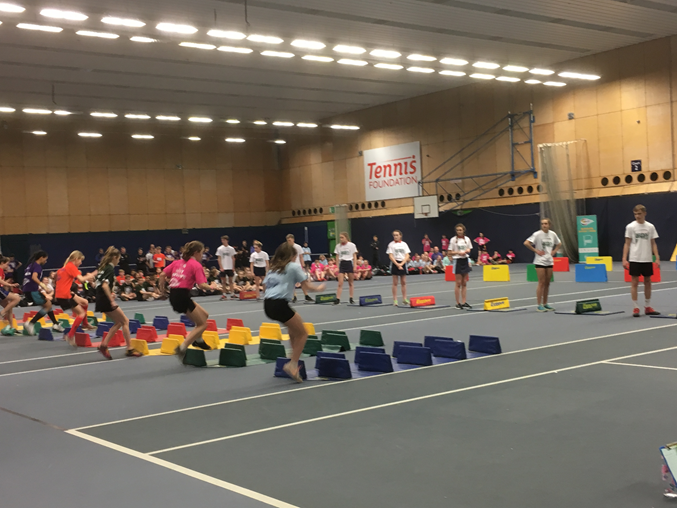 Willink students achieve at English Schools Cross Country Championship 2017
Two of our students competed in Norwich at the English Schools Cross Country Championship 2017 on Saturday 18th March (see photos below). This was a fantastic achievement following success at Newbury and then Brands Hatch to qualify for this national level event. Emily Faulkner in Y12 competed in the Senior Girls event and came 174th from 301 runners which is excellent at such a high level of competition. She was the 5th Berkshire Senior girl (8 in a team). Her team came 12th out of 37. Matthew Raynor in Y9 competed in the Junior Boys event. He finished 182nd out of 345 which is also excellent considering the standard. He was also 3rd Berkshire runner out of the team of eight. Big congratulations to them both!
House point chart
Merits—each week Houses are awarded points based on how many Merits have been accumulated for the year so far. The House with the most Merits receives the most House Points.
House Football and Netball took place in February.
Back to the 80's Drama Production—a point awarded for each student who took part (on stage or backstage).
House Drama—points have been awarded for the overall winner of the Drama Competition, Best Actor, Best Technology and Best Costume.
Able Linguist Day
Year 10 students Lewis East, Laura Munn, Emily Lewis and Lauren Spratt write about the Able Linguists Day which took place last Wednesday:
"On the 29th March, the Willink School and The Hurst Community College took part in the Able Linguists Day 2017. The day included talks from Jo Howard, who works for O2 Telefonica, a telecommunications company, and James Martin from University College Oxford, group activities involving the target languages and a Russian master class.
The Willink Students organised a café where each student took on a role, for example waiters, waitresses, chefs, runners and people welcoming and introducing others. We created a menu of savoury/sweet food and hot/cold drinks that students from the Hurst could order from.
Jo Howard explained to us about how her skills in languages have broadened her opportunities of jobs and experiences. She told us about her journey through the different languages and her choices that led to her career success.
Then we did a team activity where we had to describe a layout of Lego in the target language to a runner who would relay it back to the other side who had to build it. Neither the runner nor the person building it could see the layout of the shape that they were meant to be building.
The final things were the talk and master class given by James Martin. He talked about taking languages at university and the application process for studying languages at Oxford. In the master class we got taught how to say basic phrases in Russian.
Overall, the day was a huge success and we all really enjoyed ourselves."
KEY Diary Dates

7th April: End of Term, 12.40pm

7th April: China trip departs

8th April: Ski trip departs

24th April: Staff training day

25th April: Start of term, 8.40 am

2nd May: Year 8 Girls HPV 2 Injections

Students enjoying Easter craft activities in the library last week.
News From The 6th Form Sunshine and sixth in the south—Ten go to Dorset!
Sebastian Andrews, Year 12

For Year 12 Geography students, the long awaited and highly anticipated trip to the Dorset coast took place on 27th April. The trip involved adventuring along the south coast to explore and investigate different coastal landforms and features, and I think it's safe to say the trip was a great success, with each one of us learning new things, but at the same time enjoying ourselves.
First stop was Keyhaven where Hurst Castle was built by Henry VIII in 1544 on the natural spit. From Keyhaven we moved on to Barton on Sea where we would see the results of a lack of management of the coastline. The soft clay and sand cliffs at Barton are sliding at an alarming rate.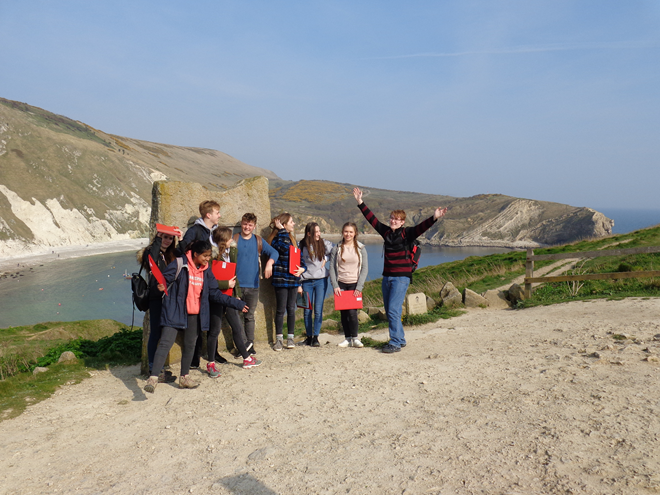 We then moved on to Sandbanks which is also a natural spit, but the value of the land is incredible. Here, we looked at the problems with coastal defences and management in this area with it being such a high value piece of land. The comparison with Barton on Sea was interesting where the coastal defences were none existent.
Crossing over on the Sandbanks chain link ferry we moved onto the main attractions of the trip, Lulworth Cove and Durdle Door. Lulworth Cove was fascinating to see. We were enclosed in a horseshoe shape by huge cliffs. However this truly remarkable place was ruined by the efforts of our field sketches, especially mine and Piers Dunham's whose art skills are safe to say not our best attributes, but I guess it's the effort that counts!

The famous Durdle Door is an extraordinary landform. It was interesting to see what the power of water can do. We all stopped and gazed at the sight of this landform which must have taken thousands of years to create, knowing that in the future it will not be there due to the power of water. Walking down to the beach was enjoyable, however getting back up the cliff was a struggle for us all and we needed a well-deserved lie down at the top.
Seeing Durdle Door was a great end to a brilliant trip and our class are truly grateful to Mrs Starkey and Mrs Hiscock for making the day educational and fun — a day to remember!!!
Willink 6th form Football Derby
The Year 12 and 13 football teams took each other on during lunchtime on Friday 27th March. Well-organised by Mr Leach and Fin Bowen, the match was well-attended with the Year 12 boys narrowly winning 3-2.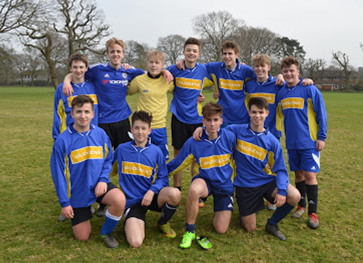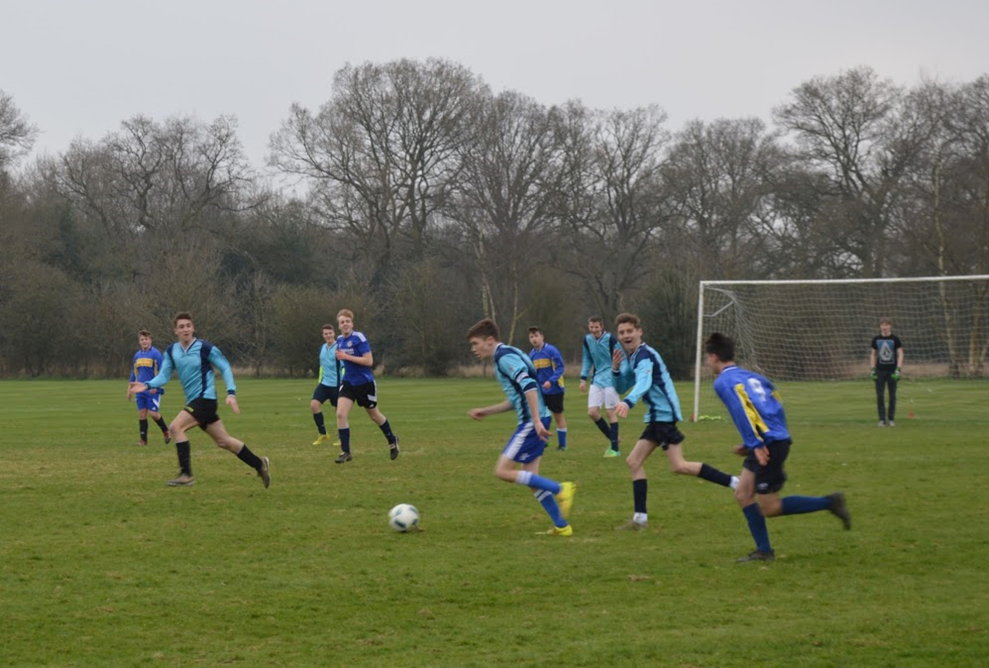 HAPPY EASTER! HAVE A GREAT HOLIDAY
Previous issues